10 simple storage hacks to organise your space
At Your Store Exeter, we are more than just a self-storage facility. We are dedicated to helping people find the best storage solutions for their personal and business needs. When your home or work space feels overwhelmed with 'stuff' and you have run out of space, there are a few simple storage hacks that might just come in handy. Below, we have highlighted some of our favourite easy and inexpensive storage hacks to help de-clutter your life.
Keep your belongings neat and organised with these creative storage ideas!
10 simple storage hacks
1. Lego is legendary!
Struggling to keep your desk and other areas tidy? Use Lego to keep on top of things. Glue a couple pieces to the side of your desk to create extra storage space. And you know those little lego men? Well, they make perfect cable holders!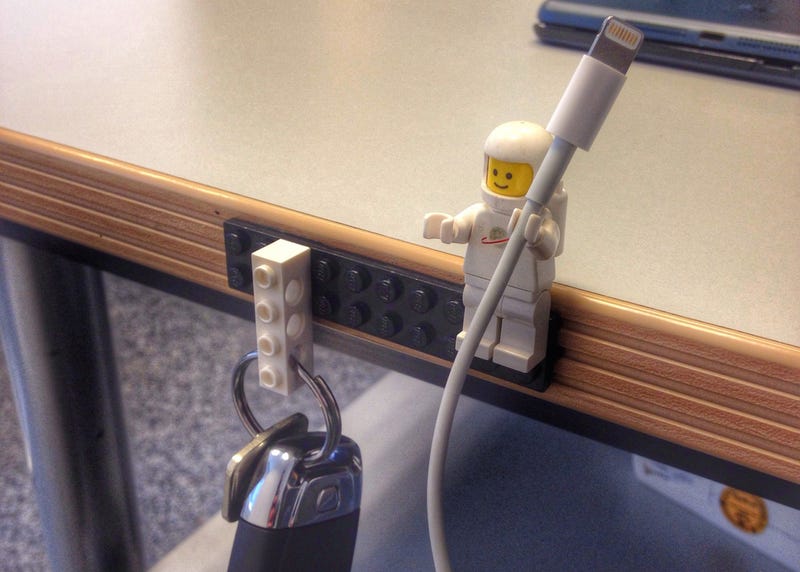 2. Back to bed
Looking for a use for those old bed slats? Why not repurpose them as a wall hanger? The wooden planks, usually used to support a mattress, make an ideal hanger for your items – plants, kitchen utensils, magazines, garden tools – the possibilities are endless!
3. Stop. Hanger time!
Install a rod or stick in the cupboard under your sink and hang your cleaning products and spray bottles up. This will create more space below for other items and kitchenware.
4. Marvellous magnets
Magnetic strips can be hung up almost anywhere in the home or office, and they make a cracking storage device. Use a large strip to hang knives, or a small strip to keep paper clips in one place.
5. From bookshelf to baking space
Old bookshelves make the perfect kitchen island when turned on their side! Perfect for storing all of your kitchen items – recipe books, utensils, snacks, baking supplies, etc.
6. On the pot-ery ladder
Keep your pots and pans neat and tidy by placing them on a ladder using s-hooks.
7. Got mail?
Are those letters piling up on the kitchen table? Got nowhere to store your magazines and documents? Try adding magazine holders to the bottom of your floating shelves and keep your important items safe and organised.
8. Three cheers for chicken wire!
Create your very own DIY accessory organiser by attaching chicken wire to a wooden frame – perfect for hanging jewellery, ties, sunglasses, pens, scarves, and more. A great way to keep those smaller items safe and out the way.
9. Rack em up
An old wine rack can be given a new purpose when hung on the wall and used as a holder for your accessories. Place one in the bathroom and use as a makeshift towel rack, or hang one in the hallway and keep your handbags, clutches and scarves, etc on it.
10. Coffee table cache
Make a unique coffee table out of old bed slats or spare planks of wood. Not only will you have created a one of a kind piece for your living room, but the table will also double as an ample storage unit.
Self-storage in Exeter
As storage experts based in Exeter, we have been providing self-storage, personal storage and business storage solutions for many years.
If you are trying to declutter your living area or workspace, or you are moving property and would like to discuss your storage options or other simple storage hacks, get in touch with Your Store Exeter today for more information.